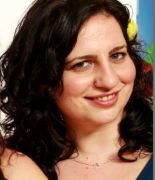 Rose a Brooklyn native who understands the needs of those who call this chaotic city home. Rose began her healing path holding the hands of patients in her grandfather's office and later, her father's office. Rose spent several years advocating for NYC's most vulnerable until she found her calling in therapeutic massage and bodywork.
Upon graduating from the Swedish Institute in 2005, Rose immediately began working the the field, nurturing her private practice while working with doctors, physical therapists, and other allied health professionals. Combining experience working with injuries and musculoskeletal issues with education and guidance, Rose developed an approach and technique that is more therapeutic and clinically based. Client-centered and goal oriented, Rose works with you and unites critical thinking with calming relaxation therapies to help you achieve your wellness goals. Simply put, we work together with the many "tools in my tool belt" to see what works to help you feel better.
Rose is proud to share her knowledge as faculty at Mildred-Elley's Massage program, knowing the best way to master your craft is the ability teach it to others.
Book Today, Feel Better Now